---
Customized Printed Tape, Logo Tape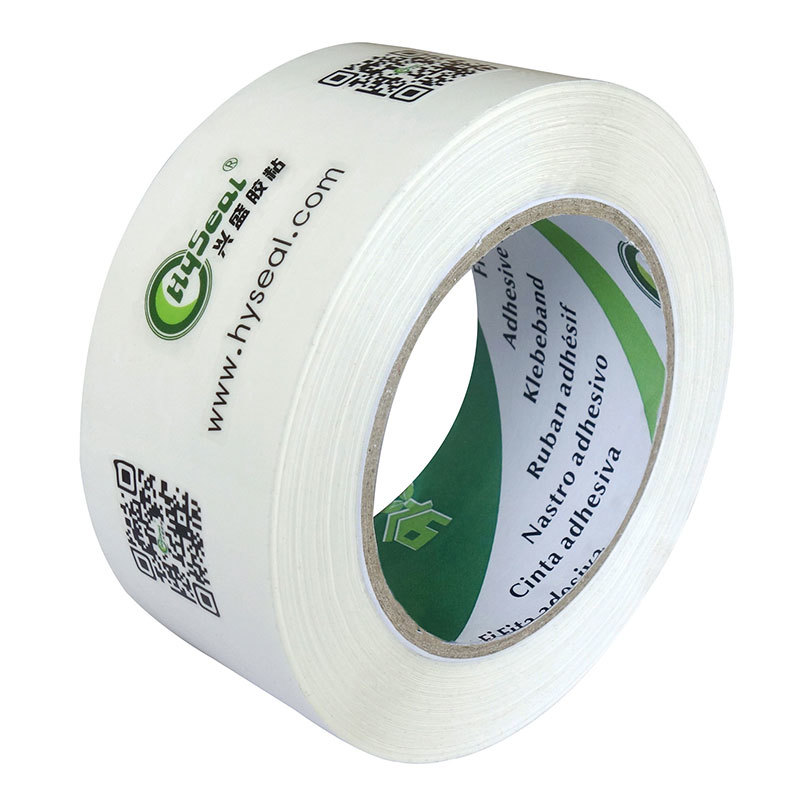 Enquiry
Custom Printed Tape provides the chances for both distributors and end users to advertise their brand. It is a moving billboard for company image and strength. The customized message printed on the tape can also prevent the cartons from being opened by some vicious purposes. Low Noise Printed Tape, Noisy Printed Tape, Tape for Office and Paper Printed Tape are available.

1-3 color printing

High-resolution printing

Sandwich printing

Available in Acrylic low noise, Acrylic noisy, Hot Melt adhesive

The basic color can be white, clear, colored and customized.
Description

BOPP Printed Tape is Biaxial-oriented Polypropylene film coated with Pressure Sensitive Acrylic or Hot Melt adhesive, with printing content between film and adhesive. The sandwich printing technology protects the printing undamaged during moving or transporting. Print the company logo & information on the tape, and use this tape to seal the cartons of product. This package will be a moving billboard of the company. Moreover, with a unique Custom Printed Tape, the goods inside will be well secured. Just tell the buyer if the seal is broken, refuse the delivery. This definitely shows the buyer that the goods inside are important and we are a serious company.

Features

Custom Packing Tape produced by Hyseal has the following features:

1-3 color printing

High-resolution printing

Sandwich printing

Available in Acrylic low noise, Acrylic noisy, Hot Melt adhesive

The basic color can be white, clear, colored and customized.

Physical Data

The following is the physical data of our Custom Shipping Tape:

| | |
| --- | --- |
| Film: | Biaxial-Oriented Polypropylene |
| Adhesive: | Pressure Sensitive Acrylic or Pressure Sensitive Synthetic Rubber |
| Width: | 12/15/18/19/24/25/36/38/45/48/50/60/72/75/96/144/150/288/300mm |
| Length: | 50/60/66/120/132/150/200/900/914/990/1500/1828m |
| Thickness: | 38μm ~ 75μm |
| Printing Colour: | 1 colour, 2 colours, multiple colours |
| Base Colour | clear, white, brown, tan, red, orange, yellow, green, blue, black |
| Colour Conformity | ≥ 98% |

Quality Grade

Printed Tape
Low Noise Printed Tape
Low Noise Printed Tape
Noisy Printed Tape
Hot Melt Printed Tape
Film Thickness
25 μm
28 μm
23 μm
25 μm
Total Thickness
45 μm
50 μm
43 μm
42 μm
Initial Tack
< 4.5 cm
< 4.0 cm
< 4.5 cm
< 5.0 cm
Peeling Adhesion
6.0 N/inch
6.5 N/inch
6.0 N/inch
9.0 N/inch
Shear Value
> 24 hours
> 24 hours
> 24 hours
> 48 hours
Tensile Strength (MD)
65 N/inch
80 N/inch
55 N/inch
65 N/inch
Elongation at Break
105%
110%
105%
105%
Shelf Life
12 months
12 months
12 months
12 months
Storage Temperature
5˚C-50˚C
5˚C-50˚C
5˚C-50˚C
5˚C-50˚C
The above data is the average value as the result of production samples and not a guarantee of a final result. For more details, please refer to the product data sheet.

Package

Industrial Package

Printed Core / Neutral Core
6 pcs/flat pack
36 pcs/ctn or 72 pcs/ctn
Printed Core / Neutral Core
6 pcs/tower pack
36 pcs/ctn or 72 pcs/ctn
Retail Package