---
Coloured Tape, Colourful Tape, Low Noise Colorful Tape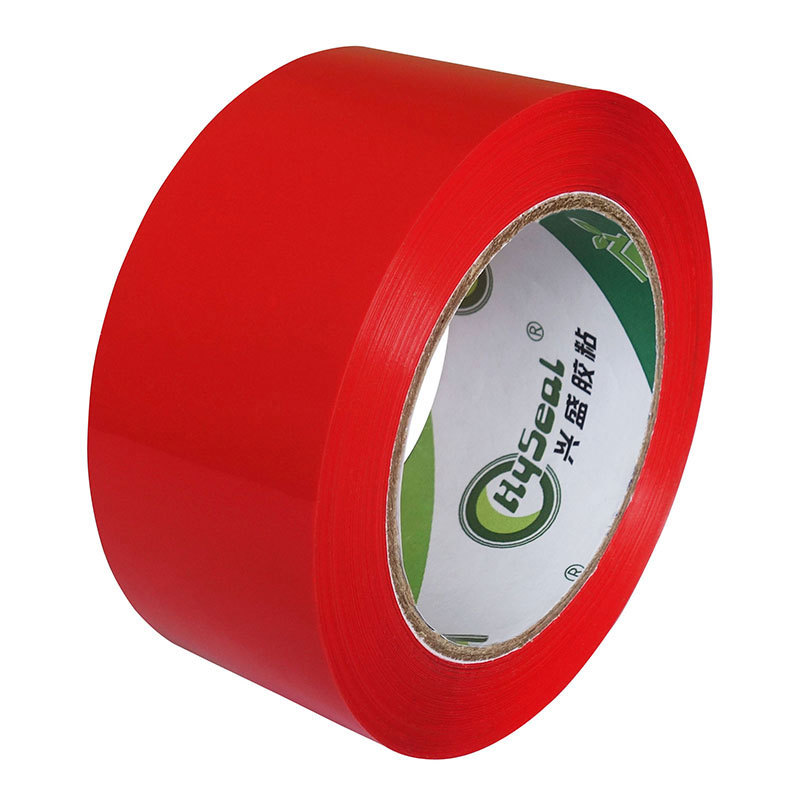 Enquiry
Colored adhesive tape makes an extra discernibility during general purpose package, marks the different batches of goods, assigns different region and cargo by different colour tapes for rapid sorting purpose, etc. The self adhesive coloured tape makes the packing things to be more presentable and interesting. It is more cost-effective than branded tape. The colored adhesive tape has following special features:

7 standard colours

Support all kinds of customized Coloured Tapes

Coloured Noisy and Low Noise Tape are available

Ideal for rapid sorting and packaging

High visibility in sealing box, wrapping pallets, etc.
Key words:

Coloured Tape
Colourful Tape
Low Noise Colorful Tape

Description

Adhesive colored tape is made by coloured Water Base Acrylic adhesive and strong strength BOPP film. There are 7 standard colours for selection: Blue C, Green C, Yellow C, 185C(red), 021C(orange), Black C and White. If it is a customized colour, more than 98% of colour conformity is guaranteed. BOPP coloured adhesive tape is widely used for marking the different batches of goods, assigns different region and cargo, etc, as the shelf life of coloured adhesive tape is long and it is resistant to heat, cold and humid conditions. Our colored adhesive tape is available in various widths, lengths, noisy or low noise, different package ways to meet users' specific requirements.

Features

Our self adhesive coloured tape has the following features:

Red, orange, yellow, green, blue, white, black

Support all kinds of customized Coloured Tapes

Coloured Noisy and Low Noise Tape are available

Ideal for rapid sorting and packaging

High visibility in sealing box, wrapping pallets, etc.

Physical Data

These are the physical data of the coloured adhesive tape:

| | |
| --- | --- |
| Film: | Biaxial-Oriented Polypropylene |
| Adhesive: | Pressure Sensitive Water Base Acrylic |
| Width: | 12/15/18/19/24/25/36/38/45/48/50/60/72/75/96/144/150/288/300mm |
| Length: | 50/60/66/90/120/132/150/200/500m |
| Thickness: | 40μm ~ 90μm |
| Colours: | red, orange, yellow, green, blue, white, black, customized |

Quality Grade

BOPP Acrylic Tape
Economy Grade
Medium Grade
Industrial Grade
Premium Grade
Film Thickness
23 μm
25 μm
28 μm
32 μm
Total Thickness
40 μm
45 μm
50 μm
57 μm
Initial Tack
< 5.0 cm
< 4.5 cm
< 4.0 cm
< 3.0 cm
Peeling Adhesion
5.5 N/inch
6.0 N/inch
6.5 N/inch
7.5 N/inch
Shear Value
> 24 hours
> 24 hours
> 24 hours
> 24 hours
Tensile Strength (MD)
55 N/inch
65 N/inch
80 N/inch
95 N/inch
Elongation at Break
105%
105%
110%
115%
Applications
Light duty
carton sealing,
<5kgs loading,
3-ply carton
Medium duty
carton sealing,
between 5-10kgs
loading
Heavy duty
carton sealing,
>11kgs loading,
5-ply carton
Extra heavy
duty carton
sealing, 5-ply or
7-ply carton
Shelf Life
12 months
12 months
12 months
12 months
Storage Temperature
5˚C - 50˚C
5˚C - 50˚C
5˚C - 50˚C
5˚C - 50˚C
The above data is the average value as the result of production samples and not a guarantee of a final result. For more details, please refer to the product data sheet.

Package

Industrial Package

Printed Core / Neutral Core
6 pcs/flat pack
36 pcs/ctn or 72 pcs/ctn
Printed Core / Neutral Core
6 pcs/tower pack
36 pcs/ctn or 72 pcs/ctn
Retail Package