---
DOUBLE SIDED TAPE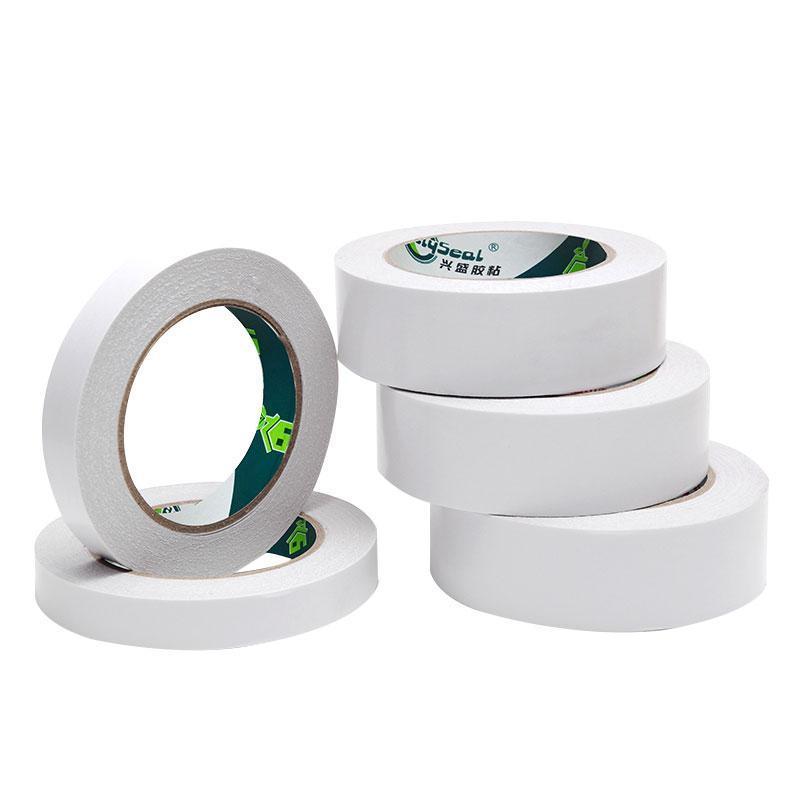 Enquiry
Double Sided Tape includes Double Sided PP Tape, Double Sided Tissue Tape, Double Sided Adhesive Foam Tape and Double Sided EVA Foam Tape. PP one is mainly used for computerized embroidery and shoe & leather industry. Tissue one is suitable to paste envelop, public notes, photos and some home and office use. EVA one is irregular surface, mounting decorative objects in cars, machines and houses.

Various widths are provided

Supply Acrylic, Hot Melt and Solvent adhesive

Different thicknesses are available

Eco- friendly backing material

Retail packaging way is acceptable
We are professional double sided adhesive sheets wholesale and we provide you with the high-quality Double sided tissue Tape.
Double Sided PP Tape

Double Sided PP Tape is coated on both sides with Acrylic or

Solvent or Hot Melt adhesive on BOPP film, then wind with

white or yellow siliconized paper. BOPP film is with strong

tensile strength and adhesive is with aggressive adhesion to

the surface, it is ideal choice for carpet fixing, splicing, also

suitable for sealing poly bags, sticking wallpaper, paper, etc.

▪ Holding, jointing of light objects

▪ Good adhesion, long lasting

▪ Clean the surface of jointing object before using

▪ With white or yellow release paper

Double Sided Tissue Tape

Double Sided Tissue Tape is produced by tissue paper and

coated double side of adhesive. Adhesive can be Water Base

Acrylic, Hot Melt and Solvent. Acrylic Double Side Tissue

Tape is popular because it's good cost and solvent free. It is

easy to use and tear by hands, people like to use it to fix

ornament hook or signboard, paste mail stamp and

envelope and some DIY usage.

▪ Easy tear by hands

▪ Ideal tape for home and office use

▪ Suitable for general purpose applications

▪ Flexible width: from 3mm to 150mm

Double Sided EVA Foam Tape

EVA is in short of Ethylene-Vinyl Acetate Copolymer. EVA has

the features of shock proof and anti-slip. Double Side EVA

Foam Tape is coated with Water Base Acrylic or Natural

Rubber on two sides of EVA, then winded with release

paper. EVA can be in different colours, such as white, gray

and black. It is widely used in electrical products,

automobiles, computers, toys, sports equipment, etc.

▪ Thickness: 0.5mm - 8mm

▪ Strong double side adhesion

▪ Shock-proof and crack resistant

▪ Good performance in all kinds of surfaces
---