---
Message Warning Tape, Warning Tape, Message Tape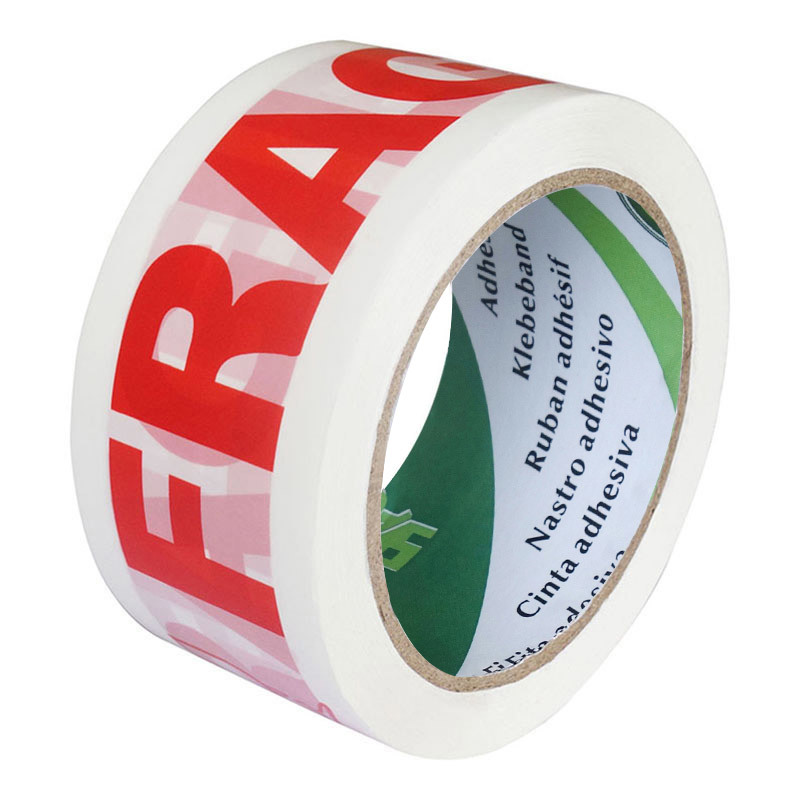 Enquiry
Using Printed Tape with warning message such as "FRAGILE", "CAUTION", "SECURITY SEAL", etc. to seal the carton is a kind of friendly warning & guarantee for safety during transportation & storage. The message on the warning packing tape can be in different language, for example "BANDE DE GARANTIE" in French, "VORSICHT GLAS" in German, "MUY FRAGIL" in Spanish, "注意" in Chinese.

Excellent adhesion

Available in manual roll and machine roll

Available in Silent Tape and Noisy Tape
Hyseal has more than 200 designs of Message Warning Tape for your free choice. You can also design your own Printed Tape.
Key words:

Message Warning Tape
Warning Tape
Message Tape

Description

The Message Warning Tape or handle with care tape is an universal product with different printed warning messages on the tape. Such warning packing tape can be used for many kinds of purposes, such as identify the products inside, mark the correct and rejective products, and protect the cartons being from opened by vicious purposes. The printed messages can be in different lauguages. Nearly each country has its specific warning contents and end users already get used to them. For precious products inside the boxes or cartons, we suggest you make your own unique desgin and no one can copy it once they open the box. The Message Warning Tape Protects Your Benefits!

Features

Our warning packing tape is with the following features:

Excellent adhesion

Available in manual roll and machine roll

Available in Silent Tape and Noisy Tape

As a reliable warning tape supplier, Hyseal has more than 200 designs of Message Warning Tape for your free choice.
You can also design your own warning packing tape.

Physical Data

The physical data of handle with care tape are as follows:

| | |
| --- | --- |
| Film: | Biaxial-Oriented Polypropylene |
| Adhesive: | Pressure Sensitive Acrylic or Pressure Sensitive Synthetic Rubber |
| Width: | 12/15/18/19/24/25/36/38/45/48/50/60/72/75/96/144/150/288/300mm |
| Length: | 50/60/66/120/132/150/200/900/914/990/1500/1828m |
| Thickness: | 38μm ~ 75μm |
| Printing Colour: | 1 colour, 2 colours, multiple colours |
| Base Colour | clear, white, brown, tan, red, orange, yellow, green, blue, black |
| Colour Conformity | ≥ 98% |

Quality Grade

Printed Tape
Low Noise Printed Tape
Low Noise Printed Tape
Noisy Printed Tape
Hot Melt Printed Tape
Film Thickness
25 μm
28 μm
23 μm
25 μm
Total Thickness
45 μm
50 μm
43 μm
42 μm
Initial Tack
< 4.5 cm
< 4.0 cm
< 4.5 cm
< 5.0 cm
Peeling Adhesion
6.0 N/inch
6.5 N/inch
6.0 N/inch
9.0 N/inch
Shear Value
> 24 hours
> 24 hours
> 24 hours
> 48 hours
Tensile Strength (MD)
65 N/inch
80 N/inch
55 N/inch
65 N/inch
Elongation at Break
105%
110%
105%
105%
Shelf Life
12 months
12 months
12 months
12 months
Storage Temperature
5˚C-50˚C
5˚C-50˚C
5˚C-50˚C
5˚C-50˚C
The above data is the average value as the result of production samples and not a guarantee of a final result. For more details, please refer to the product data sheet.

Package

Industrial Package

Printed Core / Neutral Core
6 pcs/flat pack
36 pcs/ctn or 72 pcs/ctn
Printed Core / Neutral Core
6 pcs/tower pack
36 pcs/ctn or 72 pcs/ctn
Retail Package